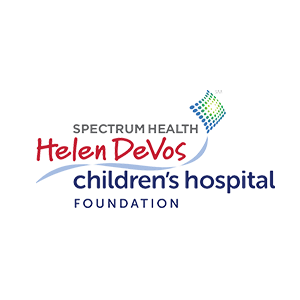 Helen DeVos Children's Hospital Child Life Program
Helen DeVos Children's Hospital is one of the leading children's hospitals in the country. One of the programming components of the hospital is to assist each patient during their stay by easing some of the psychological and social adjustments of a long hospital stay. Using the tools of music, art, humor, special events and visitors, and fun, the staff of the child life program specifically focuses on providing comfort in multiple ways to children who are often very, very, sick. Another challenge that school age children face when facing a long hospital stay is keeping up with schoolwork. The hospital has a teacher on staff who helps to coordinate with the home district to keep the student/patient up to speed as much as possible during this challenging time. The child life program at the hospital is supported specifically via philanthropic donations. The Robert Nelson Foundation is honored to have provided a gift of $10,000.00 to help support these special children and the staff that take care of them each day.
Our Child Life Specialists turn fear into fun through positive play. When a child comes to HDVCH, it can be scary and confusing. Philanthropy gives our Child Life team the ability to provide quality psychosocial support to many children—through preparation, education, support and distraction, our child life specialists are an essential part of the care provided. Each day this team is able to impact the lives of 200 patients on average, both inpatient and outpatient.